Convert The Planet Missionary T-Shirts
---
Year 2000 Sold Out
---
Shipping is $3.00 for the first shirt and $1.00 extra for each additional shirt ordered at the same time.
This shirt was a fun way of spreading the gospel. The front pocket area of the shirt says, "Convert the Planet: LDS World Tour 2000." Appropriately, on the back of the shirt are most of the names of the worldwide missions, as if it were a concert T-Shirt.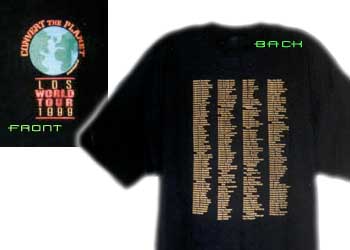 Convert The Planet: LDS World Tour 1999
Shirts, conceptualized by Kerry Jensen and designed by Jeff Johns, are available in Mens sizes L, XL, and XXL. Click on "Contact Us" on the left menu bar to order your shirt(s).
Click here to view the mission names that are printed on the back of the 2000 Shirt A and the 2000 Shirt B.